Gay Metalheads?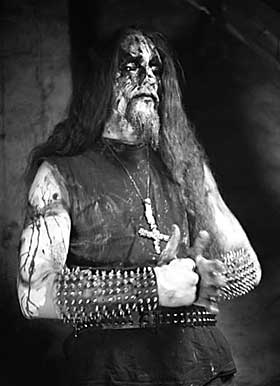 Male dominated. Sweaty. In your face. Brutal. Head Banging. Mosh Pits. Screaming. Aggression.
Where would gay fit into any of this?
One of my best friends is gay and plays bass in a metal band (Well, he says metal- I say
metal core
). He hasn't told a soul that he's gay, besides me and the few others he's come out to. What saddens me the most is that he hasn't told his best friends/band members that he is. I wondered about this for a while. Why would he feel that he couldn't tell his best friends, some of which he's known since
kindergarten
?
This made me think that being a gay metal head is almost comparable to being a female metal head or a black metal head but it just might be worse. Metal is generally super machismo (not including hair metal which I don't consider real metal) as well as aggressive and doesn't really allow for a homosexual male to feel comfortable declaring that he is indeed homosexual. I bet there are a good bit of gay famous heavy metal musicians but only a few are brave enough to out themselves, like the one in the picture above.
Gaahl
of black metal band,
Gorgoroth
. He
practically
screams
'gay'.
Or the most famous outed gay
metalhead
Rob
Halford
of Judas Priest. Those are the only two that I could think of off the top of my head. And out of all the metal bands and fans out there I'm positive there are more. I might go as far as to say that heavy metal is slightly homophobic. It's almost like being a gay rapper. Have you heard of any famous gay male rappers? I didn't think so.
I always found it humorous that metal is so testosterone fueled yet the fans are okay with growing their hair long, wearing make up and tight leather pants yet be so standoff-
ish
when it comes to the possibility of gay men in their scene.
What say you?