Vargi-Kins on the cover of Decibal Magazine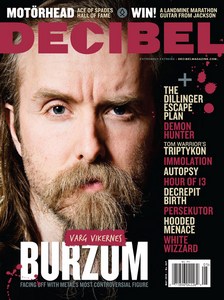 Okay guys. While perusing the magazine rack at the local bookstore I came across the image of Varg Vikernes on the cover of Decibal magazine.
Ugh.
I know I'm going to get a shitload of flack for this post but I've got to comment on this.
I read the interview. Mainly about the music-which is good.
Okay, the problem I have with this is that anyone who is remotely interested in black metal and its history knows about Varg and his past. He says he is not a neo-nazi anymore or NSBM (but I'm sure some of the old ideologies/beliefs he had has still got some grip on him) . Oh yeah, and he is a murderer.
Why are we putting him on the cover as if he is to be idolized? But then I feel like a hyporcrite for saying that because wasn't I the one saying that it should be all about the music in my other post?
I know, I know. A lot of you say that lyrics/ideologies don't matter to you anymore and that you solely listen to music just for the music. >_>
And anyone that says metal is not political in anyway is a fucking liar.
However, as I've said before in the past, I simply will not/could not buy any of his records, even if I liked some of the songs. Knowing that I support someone who compared black
metallers
to black and homosexuals...and he tried to re-explain himself but it did not come out as an apology or sincere. Its was very brazen and matter of fact.
I don't think he should apologize for his views, per
se
. Lets be honest, me and about maybe a handful of other black people may know of him. And the rest of his fans are mostly whites-who when perusing the
Internet
don't seem as offended as I am by his statement. I guess it doesn't effect them in that way.
I know black militants who are just as racist as he is and they don't want to apologize for it either. Freedom of Speech and all. However, I'm not supporting him and his ridiculous radical ideologies in any way. I'm sure he is not lamenting over the loss either.
(From Metal Crypt magazine)
You once stated that "metal is nigger music", do you still believe this to be true?
"Yes and no. I think the metal culture is nigger culture, in the sense that the traditional metal people look like, behave like and think like a bunch of "white niggers"

. It's (at least often) an extremely primitive, unintelligent and pointless subculture, like all rock 'n roll subcultures are. I too listened to metal music, but I never behaved like a nigger just because of that, and I don't understand what the point with this metal subculture is. Smoking pot or getting drunk, sleeping around and giving each other venereal diseases, partying all the time, going to concerts to meet other vacuum-heads, and so forth. What's the point? Even bush-niggers can be more sensible and constructive, and deeper than that.
'The true attraction people have to this particular subculture is probably something else, like contempt for the modern world, fascination for death and the

Gothic

, romanticism and even Pagan values, but it all becomes so very wrong when mixed with traditional rock 'n roll or heavy metal culture."
I'm not supposed to be offended by that?
Yeah, right.
So, I want your opinion on this one, guys. Maybe I should just mind my own freaking business.
I'm anticipating some interesting comments from the Scandinavian readers, however.